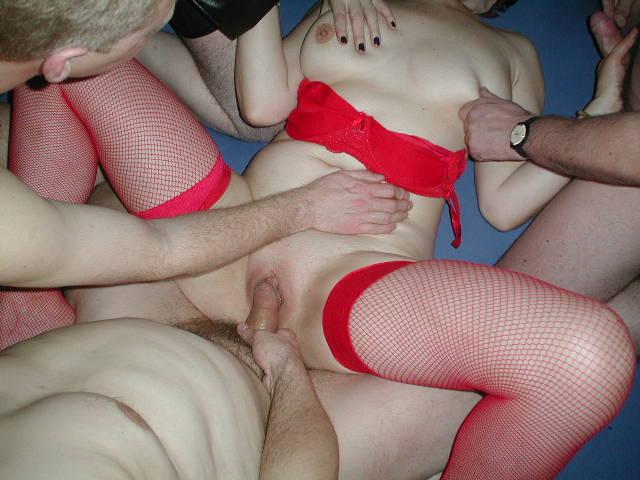 My future wife was flying in ... - On the day my future wife was flying to see me to get her engagement ring she had a layover in Chicago. Some guy picked her up while she was reading in an airport lounge. He told her he worked in some restaurant in the airport. They chatted for a bit and he bought her a cup of coffee.
Then he asked if she wanted to go with him to see some new hotel he said was really amazing. She went with him but found the hotel to be nothing special. Obviously it was just a ruse to get my future wife in his van. When they returned to the terminal parking lot he made out with my wife for awhile. Then he lifted her shirt, exposing her bra and running his fingers in her cleavage. He then lifted one side of her bra, then the other, exposing her breasts.
She said she didn't even know this man an hour and here he was fulling enjoying my girl's breasts. Bear in mind she was a demure virgin. He felt, fondled, massaged, kissed and sucked my fiancee's large breasts for what she says must have been a good 20-30 minutes. She said he liked sucking more than feeling them (although he liked feeling them, too) but most enjoyed flicking her nipples with his fingers and tongue. She said at one point he pressed his face into her jeans-covered crotch and grabbed her ass from underneath over her clothes with his hands. I'm sure he could smell her hot, wet, excited cunt. He asked her to go into the back of the van with him, obviously with the intention of fucking her, but she refused.
So he went back to enjoying my fiancee's big tits. She said he untimately jerked off and came in front of her, feeling her right tit with one hand while rubbing his cock with the other. He then brought her back to the terminal. A little while later my wife went to find him to talk to him. After all, the only other man she had ever been so intimate with was me. She went to the restaurant where he said he worked and they workers there said they knew no one by that name. He obviously lied to exploit and use her.
I know this story so well because Patti shares it with me during foreplay fairly often and it never fails to get me hot. She tells me she let him do what he did for two reasons -- 1) she wanted to see another man's technique, and 2) she was in a strange place miles from home and had been a good girl all her life and this was her last chance to do something bad. During foreplay my wife often tells me how this complete stranger used her and turned her into a cheap slut for one night. She always says during the heat of foreplay, "He didn't even buy me dinner. All he had to do was buy me a cup of coffee. He was charming enough to seduce me and make me a cheap slut that night. It took you weeks to see my tits and he got to see them in less than an hour.
She also tells me how this lucky guy probably told all his friends the next day how he seduced an innocent girl and turned her into a slut, then described her beautiful,large breasts in detail to his friends and told them everything he did to my fiancee's tits. She said a while back that she wonders if he still remembers her after all these years. I answered that if he is like the vast majority of men he certainly does. We men don't forget that type of thing. It was her first cuckold tale to me and since then it has been a wild ride. Attatched is a pic from one of our cuckold nights at home.
WIVES POST THEIR PERSONAL ADS ... COUPLES FOR MEN