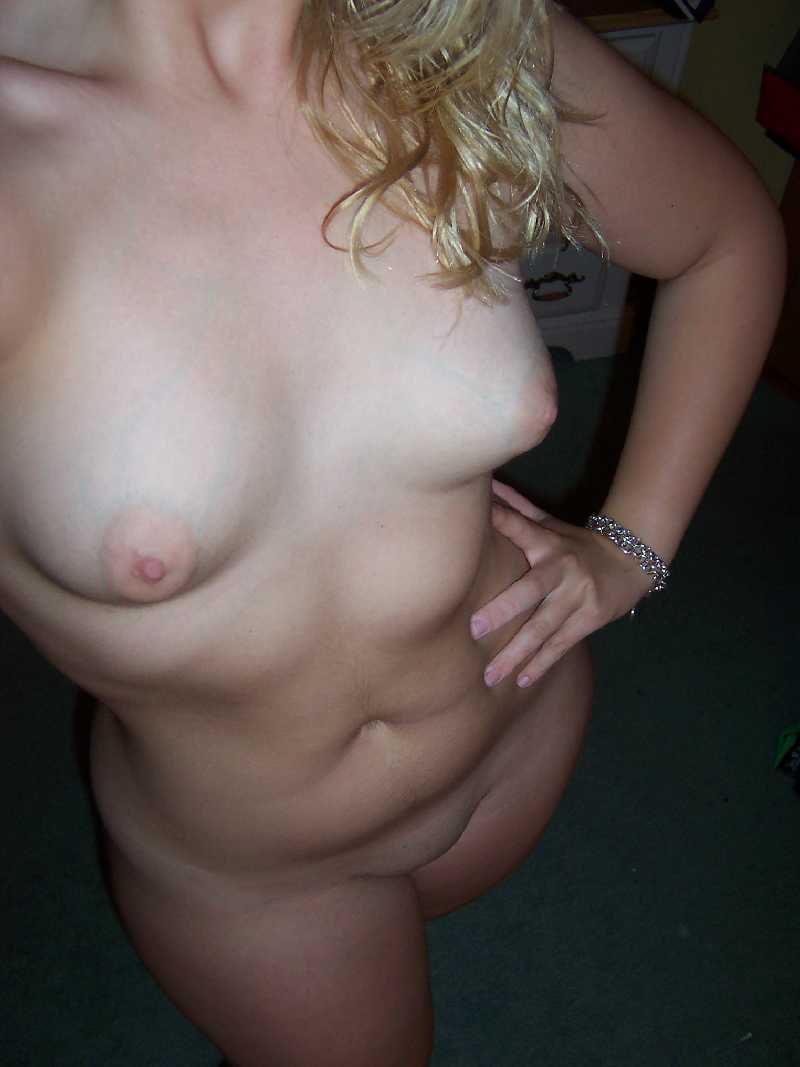 Two friends saw my Wife Naked - Two of my friends picked me up early on Saturday morning. We were going to a third friends house to help him with a building project. On the way there he called on the cell & said he had a family issue to deal with & asked if we could wait until mid morning to come over. Since my house was the closest, we decided to go there & hang out until it was time to head back. When we walked in the house I called out my wifes name but she didn't answer. I thought she was still in bed so I asked the guys to keep it down so we didn't wake her up. It wasn't even 8am yet & since she normally is up by 6am during the week, I thought she would want to sleep in. We went into the family room & had divided the paper up between the three of us. Our family room & kitchen were one big open area. The kitchen was in the center & the family room was off to the far end. What I didn't know was that the phone rang right after I left & it was my wife's employer asking her if she could come to work. since I was going to be gone anyway she said sure. She was in the shower when we came in.
All is quiet in the family room as the three of us read the paper. The next thing I know my wife walks into the kitchen combing her wet hair and totally naked! (She is 5'4", 105lbs & has the cutest little perky 34a tits) The kitchen is wider than the family room & by the time she was in a position to be able to see us, her back was already to us. As she opened the cupboard to get a juice glass I looked over at the other two guys. Neither had seen her walk in but both looked up when they heard her in the cupboard. She proceeded to walk over to the refrigerator, opened it and stood in front of it as she filled the glass with OJ. She has a bad habit of always leaving the refrigerator door open whenever she is getting anything out of it. Needless to say the cold air coming out of the refrigerator, in addition to already having been walking around naked in a cool house, had a very positive effect on her nipples.
I knew I should say somthing but it was all happening so fast and I have to admit I was enjoying seeing her walking around naked. Before I came up with anything she turned toward us taking a drink of OJ as she started walking back in our direction. She lowered the glass and as she finshed swallowing brought her head down her eyes focused directly in front of her. At that moment she saw us or at least saw people at the far end of the room, screamed and dropped the glass of OJ to the floor, all while directly facing us in all her naked glory. (Both of these guys were good friends and had seen her in a bathing suit before but never anything more. All three of us had a hard time not staring).
This is where it really got interesting. When the glass hit the floor it shattered into a million pieces. I shouted at her not to move as I jumped up & ran into the kitchen. Of course my two friends were also very concerned and they were right behind me. I wasn't sure if they were concerned about glass or about getting a better view of my wife. Probably both. She was standing there shaking as she tried to cover up with her hands, not really knowing which part to try to cover. She crossed both arms over her tits & then changed her mind & took her left arm to try to cover up her bush too, not doing a good job at either. I took off my shirt & gave it to her. It covered up her tits but stopped just above her bush. From where she was looking down she must have thought it covered everything because she stopped trying to cover up. Glass and OJ were all around her on the floor. I told her to calm down and whatever you do don't move. You'll cut your feet big time if you do. She couldn't walk out of the kitchen & we couldn't walk in the kitchen. (When we came in we left our old work shoes in the garage so we wouldn't track up the house).
I asked Jeff to go upstairs & get a several towels out of the closet upstairs and asked Ron to get my shoes out of the garage. I was going to put my shoes on and carry her over to the carpet. Ron got back first but he brought his shoes instead of mine and he had them on already. As he walked up he said I'll get her. I looked at her and she looked back & said I don't care who does it, just get me out of here.
Ron was by far the biggest of the three of us. He walks over and put one arm under her arm. As she raised up her arm the shirt pulled all the way up to her belly button. He bends down & puts his other arm behind her knees. As he is in this position his face is roughly six inches from my wifes bush. He pauses a second (I think he liked the view) & said here we go. He picks her up & she's all curled up in his arms. About that time the Jeff comes downstairs with the towels. Ron walks across the room with my wife in his arms. Her bare ass is staring us right in the face. He stops right in front of us and asked where he should put her down. I can't believe it. Right in front of me is a friend who is holding my bare ass wife while I and another friend are standing two foot away from her ass with a clear shot of her exposed lips. I try to think for a moment and then i tell him to set her down at the base of the steps to be sure she doesn't step on any glass. He walks over to the steps and puts her down. She thanks him & runs upstairs. We all stare at her ass one more time as she ran upstairs.
Once she was out of site both of the guys looked over at me and said how hot she was. i agreed & admitted to them how lucky I was. The excitement was over so we got busy cleaning up the mess. We were just about finished when she came downstairs. She was ready to leave for work and surprisingly she was all smiles. She thanked us for cleaning up the mess & left for work. I hope you like her pic. - Jeremy
WIVES POST THEIR PERSONAL ADS ... COUPLES FOR MEN