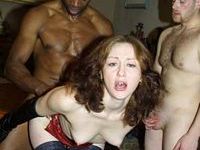 My First Cuckolding Experience - I had just been divorced from my first wife and was feeling lonely, horny, and sorry for myself. Over the years I'd been noticing some of the swingers' magazines at the newsstands around 42nd Street, and had bought some. They always turned me on – they were very direct : "Thirties couple seeks [single man][other couple][bi woman] to join us for fun times..." and many had photos with the ad, showing one or both of the couples.
I had always fantasized about what it would be like to be with one of the many couples in the ads who advertised for single men to join them. At this point in my life, I had decided "What the hell – why not try it? What do I have to lose?"One of the magazines had a lot of local ads for the area around NYC, including New York, New Jersey, and Connecticut. I went through this magazine very carefully, trying to figure out which of the hundreds of couples to write. Finally, I picked five that were the most alluring, were most clearly looking for men, and had sexy photos.
I wrote to them, including my P.O. box number,face photo, and my phone number, and a stamped and addressed envelope for a reply.About a week later I found an envelope in my PO Box, with a postmark of Nutley, NJ. It was all I could do not to open it right there, but I didn't - I rushed home, went to the bedroom, and tore it open.
The letter was from Bonnie and Jim, and they said they liked my letter and my looks and wanted to meet with me. There was a Polaroid shot of Bonnie from the waist up, her tits bare and a smile on her face as she looked at the camera. She was a very attractive brunette with straight hair and beautiful firm tits that were very white compared to the dark tan she had. And there was a phone number!That evening, excited beyond belief, I made the phone call, we talked, and we decided that I would drive out to Nutley to visit them the following Saturday night. I was so excited and nervous for the next few days I could hardly stand it...my long-held fantasy of a threesome was about to happen, if all went well!On the Saturday night I drove to Nutley and found their house.
A normal middle-class house, like all the others around it. But in this particular house was a man who liked to watch his wife suck other men's cocks, and a woman who enjoyed doing it! As I rang the doorbell, I thought "I am about to meet a woman for the first time, and before an hour's time is up she is going to have my cock in her mouth while her husband watches!"Jim opened the door for me, and there behind him was Bonnie, smiling at me. They were both attractive, tanned, trim. Bonnie had long straight brown hair and a lovely smile and a great figure. After greeting me, she excused herself to put her baby to bed, while Jim poured me a drink....my nervousness had started to disappear now that things were started and going well.Soon Bonnie returned from the bedroom, got a drink, and then asked me if I'd like to see their photo album. When I said I would, she got it and sat down on the sofa between myself and Jim.
I couldn't have planned to get her next to me more adroitly! I could feel the warmth of her leg pressing against mine.The first pictures in the album were taken at the beach, and showed Bonnie in a very skimpy bikini, in all sorts of poses. She turned the page, and she was still in the bikini, but now indoors, and teasing the camera, smiling broadly. When she turned the page, the pictures started getting a bit more racy. They showed her taking off her bra, and then on the opposite page was an enlargement photo of Bonnie, bare-breasted and smiling. I drew in my breath, and without thought I blurted out, "Bonnie, you have great tits!!"I looked from the photo to Bonnie, and she was smiling - this time at me! She leaned closer for a kiss, and I felt her lips on mine. At the same time I was wondering about Jim's reaction, and out of the corner of my eye checked him out. He was smiling too - I knew then that he wasn't going to punch me for kissing his wife! And a moment later, as my long kiss continued, I felt his hands reach between us and start to unbutton Bonnie's blouse!The kiss ended, Bonnie turned to Jim and kissed him. Bolder now, I reached between them and finished unbuttoning her blouse.
When she turned to continue with the album, her blouse was open and I could see the sexy black bra she had on, which was filled very nicely!I looked back at the album, as Bonnie turned the pages. Now the images were of her completely nude, playing indoors. In one shot she was holding her ample tits up, with her thumbs touching the large, dark nipples. In another her legs were spread. Her deep tan extended to where her bikini bra and bottom had been. Her bush was dark and enticing. In all these photos Bonnie was smiling broadly - clearly she was an exhibitionist who loved showing off for the camera.Then she turned the page, and there was another enlargement -- Bonnie on her knees in front of a man who was not Jim, with his very large cock in her mouth! I gasped again, because although things were leading toward the more provocative, I had not expected anything this explicit.
Bonnie looked at me, she smiled and leaned forward for another wet kiss. This time I felt Jim's hands opening the clasp of her bra. I backed off and watched as he slowly pulled it away from her, revealing her gorgeous tits to me. The nipples were dark and hard and large. I put my hands on her breasts and as I did so I felt Jim's hands on them too, from the other side of Bonnie. Together we fondled her tits, occasionally rubbing against those big nipples. Then Jim leaned down and put his mouth on one nipple, sucking it into his mouth. Taking my cue from him, I put my mouth on the other nipple and started teasing it with my tongue and my teeth, and sucking it. As I did so I could tell that Jim was doing the same. And then I felt Bonnie's left hand fondling my cock through my pants, and I knew that she was fondling Jim's with her right hand.Soon I felt Bonnie's fingers opening my zipper and I knew that with her other hand she was doing the same with Jim's. She reached in and pulled my stiff cock out; I glanced over with curiosity and saw Jim's uncircumsised cock standing stiff out of his pants, and Bonnie's hand stroking it. While this was going on Jim and I stopped sucking on her nipples long enough to pull her skirt up to her waist, and each of us had a finger in her very wet cunt....Looking across the living room to a large mirror on the opposite wall, I could see the three of us in a very obscene and exciting tableau, that added to the excitement!Suddenly Bonnie stood up, reached over and took Jim's cock in one hand and mine in her other, and pulled us to our feet. She said "Let's go into the bedroom, guys!" I followed her – her hands still holding our cocks – into the bedroom. In there, I finished taking off all my clothes and Jim and I together undressed Bonnie. Then, as I was looking at Bonnie's great body, and she was smiling a very lewd smile at me, I heard Jim say, "Well, Steve – what would you like to do?" It turned out that they wanted me to be the master of ceremonies!
Immediately my mind went into overdrive. All the fantasies I had thought of over the years were possible! I told Bonnie to get down on her knees in front of me, and to lick just the tip of my cock. She did it unhesitatingly, and as she did Jim picked up a Polaroid camera and took a photo. Then I told her to go ahead and get the rest of my cock into her mouth and to go ahead and suck it...She did, with real enthusiasm. As I felt her mouth around my cock, I wondered why I hadn't answered an ad before.After a while, I told Jim to put down the camera and to stand next to me.
His cock was stiff. I took mind out of Bonnie's mouth and said to her, "I wonder if you can get both of our cocks in your mouth at the same time?" I could see you was delighted with the idea, and as for Jim, his cock gave a little jump and I knew he was excited. Bonnie reached out and squeezed our cocks together with her hand, and guided them toward her open mouth. It was an incredible feeling, my cock squeezed next to another man's, and the man's wife about to suck us both! Bonnie was able to get both heads and a bit more into her mouth. We could see the group reflected in a large mirror.
Our four balls were dangling at Bonnie's chin, and she used one hand to play with them.It didn't take very long for us to cum in her mouth – not quite at the same time, but close. When we withdrew our cocks, Bonnie looked at us both, smiled, and opened her mouth, to show a copious load of our mixed sperm on her tongue and in her mouth.I said to Jim, "Your wife is a great cocksucker, Jim!" and I saw his cock react when he heard me say that. Then I asked him to come over and stand right next to me, and I told Bonnie to see if she could get both cocks into her mouth together.
This was clearly something new to them, as it was, of course, to me. She squeezed her husband's cock tight against mine and managed to get both into her mouth. I felt Jim's cock rubbing against mine, and felt Bonnie's tongue exploring this interesting new situation! Again, Jim took a Polaroid photo of her face with two very stiff cocks next to each other in her mouth, and our balls dangling at her chin. (The photo turned out to be wildly out of focus, to no one's surprise!)After this, I asked Jim to take a photo of me alone that I could use to mail to other swinging couples.
He took a shot of me standing there with a smile and a hardon. Then, thinking that a more discreet photo might be a good idea to have, I put on a pair of jockey shorts. My hardon was very noticeable as it pushed the shorts out of shape, but at least I was wearing something! After this we proceeded to a full evening of great fucking and sucking. The evening was such a total success that I knew that I was going to do this again, and soon! I did meet several more times with Bonnie and Jim.
Then I had copies made of the Polaroids, and started writing more letters. Of course, not every meeting was as successful as this one...but I knew that it was possible, and I started writing lots of letters!That was several years ago, but I still enjoy MFM threesomes. Anyone who find them as exciting and erotic as I do, I'd be happy to hear from you. - Steve
WIVES POST THEIR PERSONAL ADS ... COUPLES FOR MEN