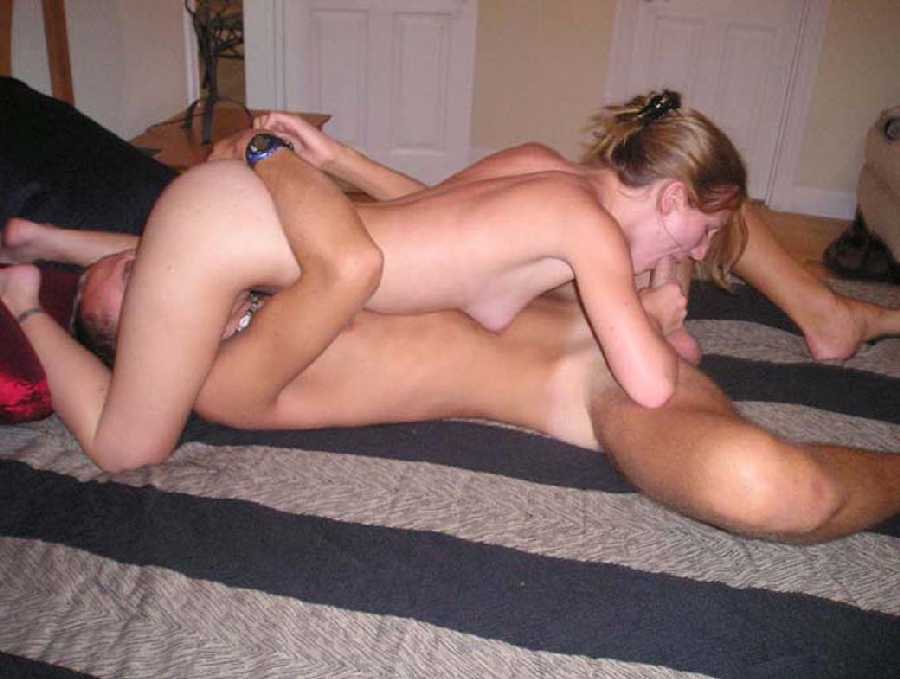 My Married Wife - My wife and I had been married almost 8 years when we decided to make our already great sex-life even better. We decided to start out slowly, and to be sure and let the other know if anything made us uncomfortable. Julie really wanted to experience sucking another man's cock since I had been her first and only and I secretly always wanted to see her do that but never said anything. We decided a great candidate would be my best friend Scott. He is a great guy and one who we both felt comfortable with.

I had given him a little previous warning as to what the afternoon/evening might hold before he came over that evening. He always came by to hang out most evenings anyway when he didn't have a date. That night we sat around having a few beers and talking, and even had a little bit to smoke. Julie mentioned that she had been shopping for a new swimsuit that day. I told her to go put it on and model it for us. Nervously, she left the room. Scott and I continued to talk and drink in her absence. He looked at me with a questioning look on his face. I said, 'this could be it, if she doesn't chicken-out.'

Just follow my lead, I said. She returned wearing a very sexy bikini with strings on either side and the top nicely nestled her 36-B tits. Julie stands about 5' 7" tall and is 34-26-34. She has beautiful brown eyes and nice brunette hair as you can see in the pictures of that night. She came in and sat down between us and said, 'what do you think?' Scott, almost drooling, said,'very nice!'. I told her she did a great job picking it out. It really looked great on her. After another beer, I finally reached over and put my arm around Julie and unhooked her swimsuit from the back and pulled the strings to reveal her beautiful tits to Scott. She has very firm breasts with beautiful, small nipples that grow very hard, very fast.

Immediately Scott grabbed one of her tits and started sucking her nipple. I grabbed the other. Together, Scott and I layed Julie back on the bed and peeled the swimsuit the rest of the way off. She was now completely naked laying on the soft comforter. Scott then turned his attention to her beautiful shaved mound and started trying to eat her pussy and she let him. Soon, all three of us were nude and rolling around on the bed. Scott went back to eating her pussy while she began to suck my hard dick.

She was going crazy with pleasure as he ate her wet pussy and she hungrily sucked my cock. Finally, she pulled my cock out of her mouth and said, 'Scott, let me suck YOUR dick for a while.' She pushed him back on the bed and they began a 69 with her sucking his rock-hard dick. Scott was a bit smaller than me, but every bit as hard (see picture). I was watching and drooling when she motioned for me to come and kiss her. As I kissed Julie, she put my hand on Scott's cock with hers. She resumed sucking his dick and told me how good it felt in her mouth. Together we were pumping his cock, while Scott was writhing in pleasure. It was then that Julie pushed Scott's cock over to my lips, and without even thinking I began to suck the head into my mouth.

Julie let out a moan and began fingering herself furiously as I sucked that hard cock as I pumped it with my hand. Scott looked down and just rolled his eyes back in pleasure. Julie kept fingering herself and licking her fingers, as I continued sucking my first cock. She rubbed her pussy juice on his dick and licked it off with me. She reached down and grabbed my cock and said, 'I want some cum!' She started sucking like crazy and pumping so hard I couldn't hold back. I shot a load that went up the side of her face and into one eye, but she kept pumping my cock and drinking every drop. She quickly grabbed Scott's dripping cock and started pumping it until his load shot into the air and she hungrily went after every drop.

We all three just lay in the floor for a few minutes. Finally, Julie got up and went to clean up and went on to bed in the spare room exhausted while Scott and I had another beer. We were all still a little nervous at our new venture into the cuckolding world, but we definitely wanted to try that again!

I'll share more of our experiences in future stories.
WIVES POST THEIR PERSONAL ADS ... COUPLES FOR MEN