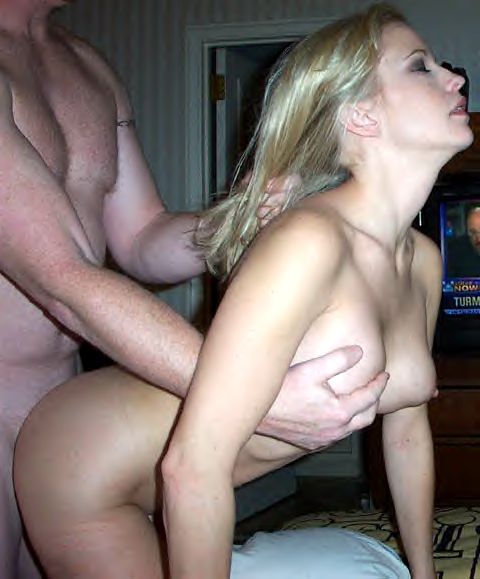 I Caught My Wife Cheating on Me - I discovered that my wife, of then a few months, really was into other men, when we were sleeping over at a friend's of mine. This happened after a night of partying a few years ago. My wife and I had allready talked about our mutual feeling about not being pysically exclusive for each other. So she wasn't like really cheating on me and that was also because my friend didn't want to make a pass at her without me knowing it.

My friend, who has a girlfriend himself, only had one double bed and I went to sleep somewhat earlier then they did. I already felt a certain tension between us, between them and I was curious what would happen. I must admit that I was a bit dissapointed when they came to bed, after an hour or so, and I hadn't heard anything going on in the livingroom next door.

I pretended to be in a deep sleep when they joined me in bed. She slept topless as usual but we all kept our shorts and thongs on. They kept whispering for a while and then kissed each other good night. So nothing would happen, I thought. But after a while I felt some movement under the blankets. And my wife started moaning softly. I opened my eyes a bit and saw, through the darkness, that they were lying in a spoonlike way, her ass against his groin. She was rotating her hips against him and apparently liked what she felt. Then she reached towards her back, probably grabbed his dick and made an admiring remark. All this time I pretended to be sleeping.

Her jerking hand in his underwear was a bit too much for him and he asked her to wake me up, before he would move on. So my wife 'woke me up' just to continue what she was doing. When I 'realised' what they were doing, I gave my blessing, a small light went on and the blankets disappeared. Then she also grabbed my hard dick and it didn't take her long to get our dicks out, giving both of us a handjob.

My cock isn't small, it's average, but I saw that my friends cock was fat and large. And I also saw that my wife didn't want anything more then feeling this huge dick inside of her. Because she immediately started to give me a blowjob, offering him her soft white cheeks and wet pussy. He didn't hesitate and started fucking her hard. Harder then I do and, very unusual to me, without a condom. Because she isn't on the pill, we only fucked, and fuck, with rubbers, but nothing could bother her more at that moment.

The rough way he fucked her made her cum instantly and over and over again. The pleasure of his big dick humping her was so great that she wasn't able to blow me anymore. But I was horny as hell and, seeing my wife being fucked this way and enjoying it so much, started jacking off myself. I didn't take me long to shoot my load all over my stomach. But he kept fucking her and she kept cumming. Finally he also came and pumped his massive load deep into her cunt. And again, she couldn't care less. And after that she even masturbated her soaking pussy to one of the biggest climaxes I've ever witnessed.

As I said this happened a few years ago. And since then my wife has had some fuckbuddies and this friend (pic) and some other good friends of mine still are fucking her on a somewhat regular basis. They hardly ever use a condom but I still am. It's not that she wants to become pregnant but when she's at it, she and her lovers are so horny that it's just forgotten.

But this was my story how I found out...
WIVES POST THEIR PERSONAL ADS ... COUPLES FOR MEN