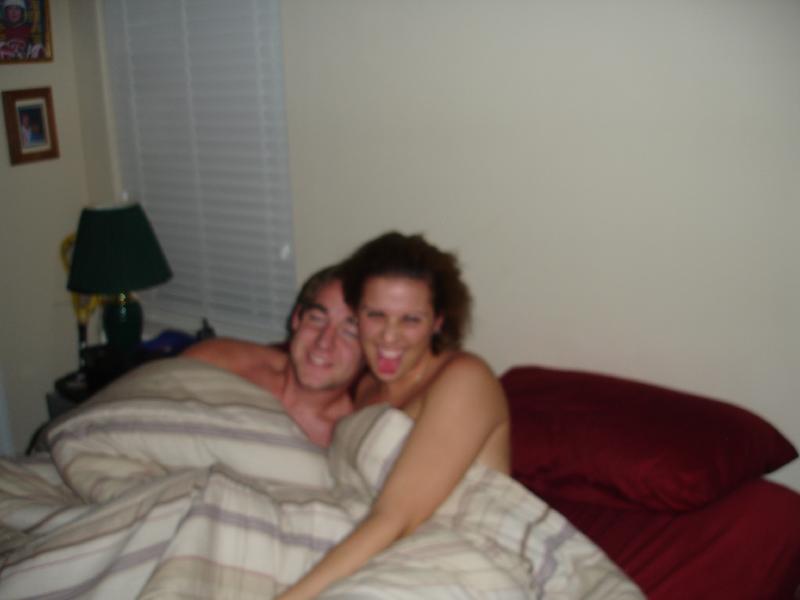 Wife Sharing - After being on Adult Friend Finder for less than three months, we hooked up with someone. We were not able to invite him into our home because we broke the bed last week screwing in preparation for meeting up with him.
We rented a room in a local area hotel. That was the first mistake. The room looked okay, but once inside the true nature of its filth and disrepair came to the front. The bathroom light didn't work. One of the lights in the main room didn't work. There was gum in the doorjam, head marks on the headboard, etc... When we did get the light to work, I went in to kiss my wife on the back of her neck and when I stepped into the bathroom, the light went off again.
I couldn't sleep all night long. I had jitters big-time. I had done this 20 years ago, but never with my wife. Finally after six hours of the both of us tossing and turning in the crappy hotel room, we decide to shower.
We get into the shower and it is nice and hot. We start to get all soaped up and the hot water ends. We are in Northern New Hampshire. When you lose the hot water, it isn't like it gets a little cold. So, we had to leave the hotel and go back to our house for her to shower. I am running back and forth between the hotel and our house trying to catch the guy who is supposed to be meeting us. I leave a note on the door and when I return with my wife it is gone. A few minutes later he arrives and we all enter the hotel.
I have to shower and so he and my wife are alone. I hear them talking and the next question I hear from him is, "do you mind if I suck your wife's tits." I am in the shower and I reply, "not at all." So I finish my shower in like two seconds and come out to see my wife of six years spread out naked on the bed, while a stranger we met on the Internet is licking her pussy.
The next thing I see is his cock sticking straight out from his body. I have an average six inch cock, he has a nine inch cock that is six inches around. My wife says before he started to eat her pussy, he kissed her on the top of her clit and said, "relax and enjoy." That sent shivers down her spine, she said. So, I am all wet and jump out of the shower and get by her side. I start to suck on her nipples, of course. Then I start to kiss and I breathe in her moans as he is tounge fucking her. He is using his tounge like a dick, something I do not do, nor had I thought of? Needless to say, I will work on that, lol! He is also finering her clit and g-spot. She is climbing all over the bed. We decide to stop and that is when he puts on a condom and she starts to give him head.
She is sucking his cock, to see your wife suck another man's cock for the first time is a rush. She was so into it and moaning. She was in the doggy-style position and I was behind her. She was bent over him while he was laying back on the bed. He was fingering her clit. So I started to spank her and caress her ass. Then I start to lick her ass as she is sucking his cock. I use my tongue like a cock and start moving it in and out of her ass. She caresses his ball sack while she does her best to deep throat him.
She finally has had enough and decides to mount him. She was more than wet enough after the two of us attacked her for about 30 minutes of forplay. We had both eaten her pussy, she sucked out cocks, we sucked and played with her breasts, you know. She slowly started to sink down on him and moan. Then as she took him all in, she started to give out little crys of pleasure. She took all nine inches. So much so that it looked like he was bareback inside her. He was playing with her breasts and she was upright rocking back and forth on his rigid cock. Her pussy lips were clinging to his cock like she didn't want to let him leave her pussy. She had her eyes closed and I let her go for a while. She then motioned for me to join them and I started by kissing the back of her neck. I then kissed her and again she was moaning her pleasure into my mouth.
I had them move to the edge of the bed and I knelt down and started to lick her ass again as she rode his cock. This really set her off. She would impale her self on his cock and at the same time I would make my tounge rigid and she would impale herself on my tounge. This went on for a while and then I switched from my tounge to my finger. She was getting off so much at this point. We haven't done anal, but have just started experimenting. So she hasn't taken a cock in the ass yet.
This went on until she needed to switch positions. She decided that she wanted him doggy-style. He entered her from behind, softly at first. She sucked my cock as I laid on the bed. I could feel him thrusting into her as she matched her motions to his thrusts. As he thrusted deeper and harder, she would take my cock out of mouth and moan. This went on until we switched positions into the missionary-style.
He pushed his cock slowly into her pussy and kissed her deeply. Once he was all the way in, I took over the kissing part and sucked on her nipples as he worked his cock into her. Again, for those interested in size. He has a nine inch cock that is six inches around. This was the biggest cock my 45 year-old wife has ever seen or had in person. That she was sharing this time with her husband and him was turning her on to the extreme. We were living out a lot of our wife-sharing fantasys in one morning of lust.
Our friend had only one condom on him and so it was decided that I would fly. I was out the door to the local store for a box of Magnum Trojans. I felt strange leaving my wife alone with him, but that is what she wanted. When I came back, she was 69ing with him and sucking his cock without a condom. She said she inspected him and he looked fine. He had been eating her pussy for about 45 minutes already and she had to suck his cock. That is what she told me anyway. So from that point on, the oral sex was without a condom. (Hi Rick's wife here) he asked me to make him hard again and if I had a problem giving him head without a condom and after as much time as he had spent eating my pussy I figured at that point if he had anything I already had gotten it from his mouth and he wasn't leaking any precum I said I would be happy to make him hard!
The next position was my wife and I 69ing while he entered her from behind. He was so large that he had no problems fitting into her and not hitting me in the head with his nutsack. So this went on for quite a while. This was her favorite position. Getting deeply fucked with his cock, while sucking on my cock, while I licked and sucked her clit. He then switched to trying to enter her ass with his massive cock. This did not work, but I almost blew my nut several times while we were 69ing. It looked like he got a little bit in, but that was it. After entering her ass a little, he switched condoms and we switched positions again. We just kept trying to think up different things to try and did them.
We look forward to meeting with this person again. He was at ease with himself, not pushy at all, just a friendly sort. He asked what we wanted to do and did it. My wife is in love with his tounge, believe it or not. As he thrust into her from a few positions, sometimes he hurt her. So, with a little work on our parts, this will not happen again. Her favorite position was to ride his cock while I was licking and fingering her ass. We will be doing the dp next. I will get my cock into her ass then they can 69 while I fuck her ass. Then she can mount his cock and I'll enter from behind. Believe me, with his size, this won't be a problem, we were almost there this time. This is not a story, the events that have transpired are real. After six years of talking about it, we have entered the lifestyle, I would say with a vengence!
For those of you who posted stories before this one, I thank you. This is my attempt at repaying and sharing with my peers. We had two hours, he wants to meet with us again and has already contacted us to do so. I will be working my cock into my wife's ass and letting you know how it is going. Good luck and safe perving!!! - Hubby
WIVES POST THEIR PERSONAL ADS ... COUPLES FOR MEN